Ultimate Law Firm
A Professional Corporation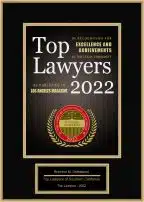 What We Offer
Get direct, one-on-one, access with an Attorney to answer your questions, evaluate your case/claim. You won't have to hunt down the attorney on your case and settle for a secretary or receptionist to answer your important questions. When our clients need answers, they get them; and in a timely manner!
I want to thank the Ultimate Law Firm for a job well done. For anyone reading this I would highly recommend this firm for any of your personal injury needs. I want to give a special thanks to Brandon, Rooshi and Crystal. They are the team I was assigned, doing an incredible job. Their professionalism and expertise was apparent at every step of my case. I received an additional 75% over what the other insurance company was offering for my accident. If you're in need of a great law firm, look no further, you will find them here at the Ultimate law Firm. Thank you again, T
Outstanding service and professionalism! They have helped me with my case and made it a smooth and easy process for me. I highly recommend them and will keep them for possible future needs. Thanks Ultimate Law Firm!
Thank you to Brandon and his team for helping me win my case.. This law firm was very helpful,understanding and friendly…Once again thank you
I had a workers compensation case that I was initially trying to handle on my own and enough was enough. It's way too complicated going it alone in this scenario. I needed help and I needed it fast. After sending out multiple emails of my testimony to different law firms and a database that contacts workers compensation lawyers from all around, which was late one night mind you, I was in a bind and I needed help and justice ASAP. The next morning (less than 24 hours) I receive a phone call from Karla at Ultimate Law Firm, APC. Call me old school, but early bird catches the worm in my book and I don't take initial text messages without a rapport over the phone first, or days late call backs from a professional organization I'm seeking services from seriously because it's unprofessional and lacks that touch of humanity, e.g. (a lawyer calling me back two weeks later for an initial consultation after Karla called me in less than 24 hours, true story) I digress, but Karla knocked it out of the park by picking up that phone and calling me. I was blown away by her immediacy, compassion, patience, knowledge, customer service, and communication skills that I signed right away through nothing other than blind faith and a gut feeling. I didn't even need to speak with a lawyer initially after being helped by Karla and certainly didn't need to look at their reviews or go through any other free consultations with other firms because this phone call came right to me, fast, and I respect that so much. Done, I was sold and knew I was in good hands from that moment on. Fast forward to the good news you all want to hear if you've been reading this far. By the way, if you're looking for a workers compensation attorney and live in Orange County, no need to look elsewhere, this is your firm. Call them. I am delighted to let you know that the deposition from yesterday went extremely well and very fast because of Rooshi's miracle work. I couldn't be more thrilled that Rooshi was able to settle so quickly and get me more than double what was initially expected. She kept negotiating higher and quicker in a matter of minutes. She did heavy lifting and negotiating during the break from the deposition. I didn't even have to log back into the deposition after she took over. It was incredible. I think I was only on the Zoom oath for maybe an hour and a half. If yesterday was not a miracle, I don't know what is. This was my first time ever having to go through anything like this. I have never signed with a lawyer for anything up until now and was quite hesitant initially because the fear of the unknown and fear-mongering you hear from people in society about lawyers, but after my experience I can honestly say from the bottom of my heart, "I love lawyers!" I want to shout it from the rooftops I am so grateful and ecstatic to have had Rooshi as my lawyer. I don't even know what else to say I am beyond grateful and ecstatic and what a healing, life-changing thing. After my experience, I put this line of work with lawyers as the most healing profession ahead of doctors now. Rooshi, you are my superhero!
Para mí el abogado Brandon Delpasan fue muy atento en mi caso y hizo todo lo posible para ganar el caso. Es de toda mi confianza y así como ami me lo recomendaron igualmente yo lo recomiend.
Farhad Danialzadeh
2022-11-23
The ultimate law firm APC is indeed the best law office firm that I have ever encountered, The entire staff is professional and helpful with every direction of my case. Mr. Brandon Is one of the best lawyers that I have ever work With. I would definitely Recommend The ultimate law firm to all my friends and my colleagues And for my future needs I will always be a loyal client.
Herbert Castro
2022-10-18
I love the way they handle my case professionally they got me what I wanted. I highly recommend them. Thank you so much you guys.
I called this place for some advice, and a lawyer was quickly able to get on the phone and assisted me, and gave good advice. Everyone was friendly, and the experience was pretty good.
Who We Are
Ultimate Law Firm – California provides well versed and deeply qualified and skilled representation and counsel in legal practice sectors of Personal Injury, Workers' Compensation, Independent Contractors Conflicts, and Employment related injuries and/or issues.
If you're looking for a Los Angeles workers comp law firm, you've come to the right place! Our law firm was established by experienced attorneys who understand California law and can help you throughout the entire process, from filing initial paperwork to post-trial advocacy. We may not be an all female law firm, but we still have a motherly touch.
Do you need a lawyer after being involved in a motorcycle accident? We've got you covered! Contact us today to speak with a knowledgeable motorcycle lawyer – Ultimate Law North Hollywood, who is committed to getting you the compensation you need.
Attorney One-On-One Access
Working With Us
When working with us, this is what you should expect!
Experience
Here at Ultimate Law firm, we have highly skilled experts that are experienced in representing injured workers and individuals all around California. If you're looking to file a workers comp or an unemployment claim, our knowledgeable staff will be more than happy to help you.
Confidentiality
From your initial consultation forward, you will receive attorney-client privileged protection of your information giving you comfort and safety in obtaining a consultation and throughout your being represented by our office.
Fast Results
At Ultimate Law Firm, we do not leave your case sitting idle waiting around for an eventual settlement. We aggressively pursue all potential benefits and keep your case moving forward towards results! Even after your case settles there may be benefits that were not provided to you; we can help you obtain those benefits!
Free Consultation
If you are unsure whether you have a case or claim, please call us to obtain an ABSOLUTELY FREE OF CHARGE consultation one-on-one with an attorney who can provide you legal advice and guidance. You will be given valuable information which can provide you ease, knowledge, and protection! You have rights, regardless of your immigration status.

MILLIONS Recovered For Our Clients!
Brandon was introduced to me by one of his previous clients. He is the best lawyer I've worked with. I had nothing to do or worry about the entire case. I provided him with the information and signatures; the next thing I knew was the big fat check.
A.M
Case Result
ONE MILLION DOLLARS – $1,000,000
Case Result
The client sustained a lifting injury to his lower back. The insurance company attempted to settle his case under 100k. We were able to negotiate a much more justified result; allowing our client to receive compensation, for his injuries and medical treatment
$600,000.00
Case Result
Due to employer negligence, our client suffered chemical burns at work, The employer was uncooperative and ended up terminating him. We were able to negotiate a lump sum settlement, in addition, to our client receiving benefits for his wage loss while recovering.
$125,000.00
Case Result
The client had a previous attorney who wanted to settle Client's case for significantly less and did not fight for the benefits or address the client's concerns. After taking the client's case, the client received personal attention one-on-one, their concerns were addressed, their medical treatment was fought for and obtained, client had a successful surgery and now has a nice settlement sum to take care of their future medical care needs and then some! Also obtained for Client, additional benefits and compensation known as a Supplemental Job Displacement Voucher and Return to Work Supplement. (additional $11,000.00 total).
$127,500.00
Case Result
Working on a job site where a Client bent over and felt a "pop" in their back. Insurance company doctors/doctors said the Client was okay to return to work…no restrictions…after aggressive negotiating and strategy, the Client received a favorable settlement and additional benefits and compensation known as a Supplemental Job Displacement Voucher and Return to Work Supplement.
$82,500.00
Case Result
After being injured at work, when the Client tripped over an extension cord and landed against the wall. The insurance company played "hardball" and provided a final "offer" of approximately $58,000.00, needless to say, we took them head-on and got well above that for the Client!
$250,000.00
Case Result
Workers Compensation case with an independently established trade job, client was injured as a result of contracting COVID. We obtained medical treatment to get their health back in order and a wonderful lump sum settlement! Our client was also able to return back to his pre-injury job.
$290,000.00
Case Result
Workers Compensation case where the injured worker was fatally injured. We recovered the maximum statutory compensation, along with burial expenses and other benefits.
$175,000.00
Case Result
Workers Compensation injury. Client was injured and not getting the assistance they needed; we stepped in and were able to maximize a lump sum settlement.
$100,000.00
Case Result
Our client was rear-ended, received top-notch medical care; allowing them to, essentially, recover from the incident, and they received over 50% of the settlement funds!
$190,000.00
Case Result
Our client was injured while working, resulting in an injury to their back. The insurance company did not want to pay the full value of their case, so we were able to get top dollar for our client!
$250,000.00
Case Result
Workers Compensation case where the injured worker was fatally injured. We recovered the maximum statutory compensation.
$100,000.00
Case Result
Our client was injured in a motor-vehicle accident, we obtained the policy limits in place at the time of the accident for them!
$100,000.00
Case Result
After having a slip and fall at work, our client was pushed aside by his employer who made them feel that they were in the wrong. We came aboard and were able to get the medical treatment that they were not provided; but also a prompt lump sum settlement.
$100,000.00
Case Result
Our client's case was wrongfully denied by the insurance company. We were able to force them to accept the injury and got compensation for our client for all their benefits and future medical treatment.
$102,000.00
Case Result
After suffering a work injury and having the employer deny their claim, our team was able to recover lump sum compensation for our client's injuries and future medical treatment.
$80,000.00
Case Result
Work injury, after having their case denied, we were able to force the insurance company to accept liability and compensate our client!
$80,000.00
Case Result
Work injury, our client was injured while working, we recovered a lump-sum settlement for them.
Let's Connect
Our Main Office
6350 Laurel Canyon Blvd #340, North Hollywood, CA 91606
Recent Articles
Bus accidents happen unexpectedly, even to those using reliable public transportation like the LA Metro. Sadly, hundreds of individuals end up in hospitals each year due to such accidents. If you're a victim, the City of Los Angeles or the private bus company involved may owe you compensation. Don't hesitate to contact the experienced Los…